Creating a report in Data Studio will allow you to quickly and easily report the effects of your SEO activities to your clients and colleagues.
Creating a report can be quite laborious, but if you do it right once, you will be able to use a ready-made template throughout the year, spending your time on other activities.
Integration with Data Studio is available from the Premium plan (pricing).
You can create your own report in Data Studio from scratch, which will allow you to completely customize the data you want to present in the report. In our Knowledge Base you'll find a series of articles that will help you to create particular elements of the report. You can find them here.
But if you want to save some time, you can use our ready-made templates to create your reports. It will take you no more than 10 minutes to prepare a report this way.
What are the elements of the report?
You will find our report template here.
The report consists of tables and charts that stem from the data in your project in Senuto Rank Tracker. In particular, the report consists of the following elements:
project statistics,

visibility history chart,

tables on current positions and history positions,

competition comparison
In Senuto Rank Tracker create a data source for your project. The whole process of creating sources is described here. Remember to change the name of the source, e.g. senuto.com Senuto Rank Tracker.
Modify a ready-made report template
Step 1: Enter our report template (LINK)
Step 2: Create a copy of the report

Step 3: Select new data sources and click "Copy report"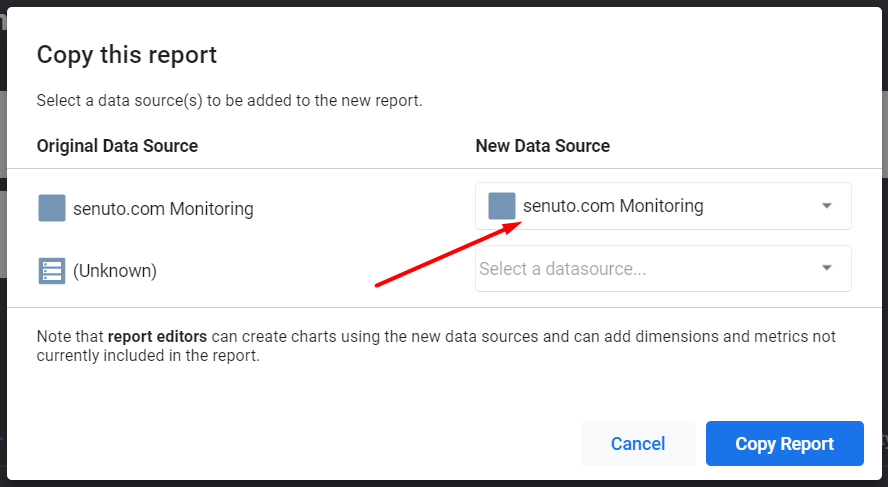 Step 4: Change the title of the report.

Now you know how to prepare your own report in Data Studio based on our template. Go to Senuto and prepare your report!