Integration of Data with Data Studio – a step-by-step manual
The integration of Senuto data with Data Studio will allow you to easily prepare reports for clients or superiors. You can add a visibility chart, the current number of phrases in TOP3, TOP10 and TOP50 to a report in Data Studio, as well as creating a table listing these and many other data.
What data do we provide? We upload the amount of phrases in TOP3, TOP10 and TOP50 to Data Studio.
How to integrate data?
Step 1: Open the Data Studio tab in the Account Settings in Senuto and copy the link to Data Sudio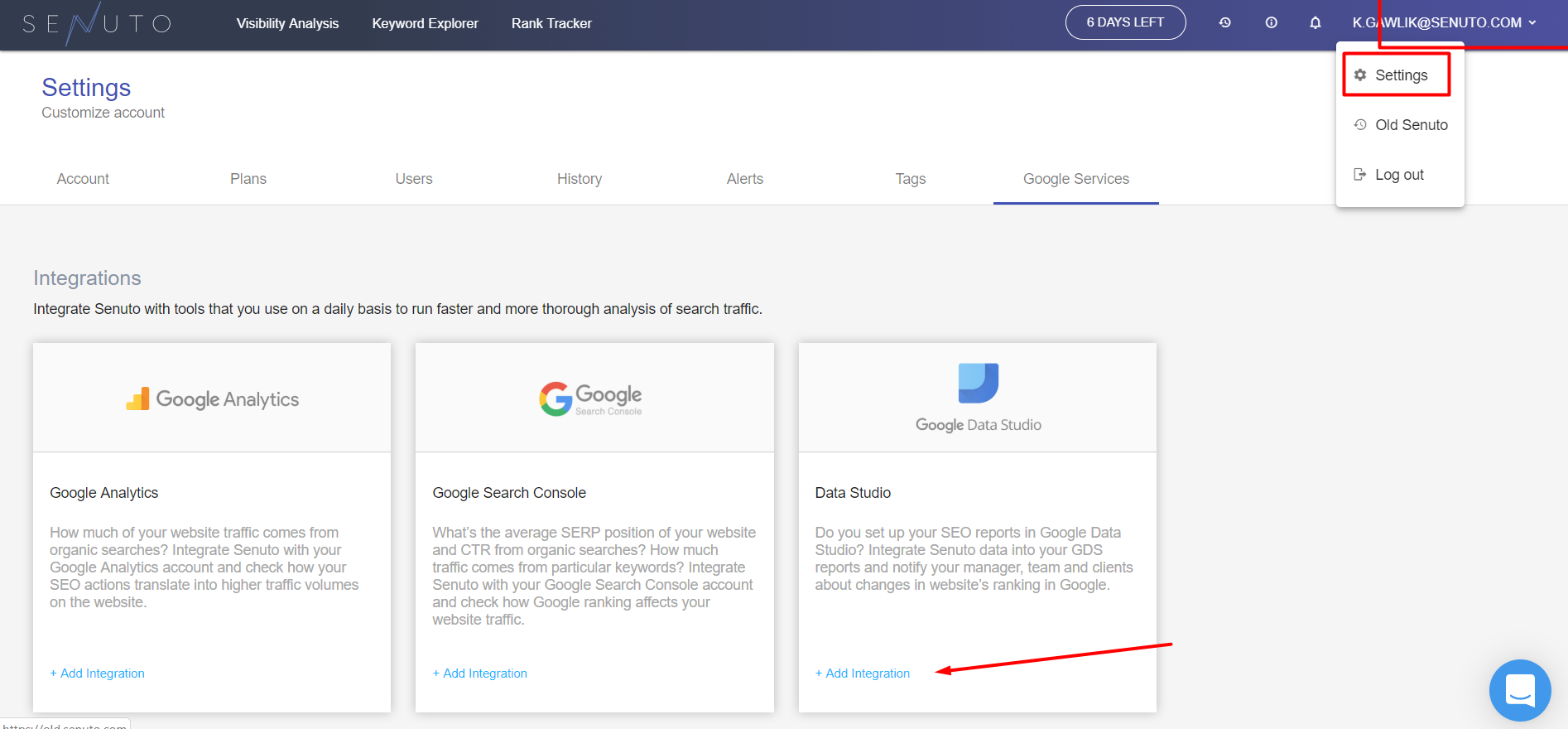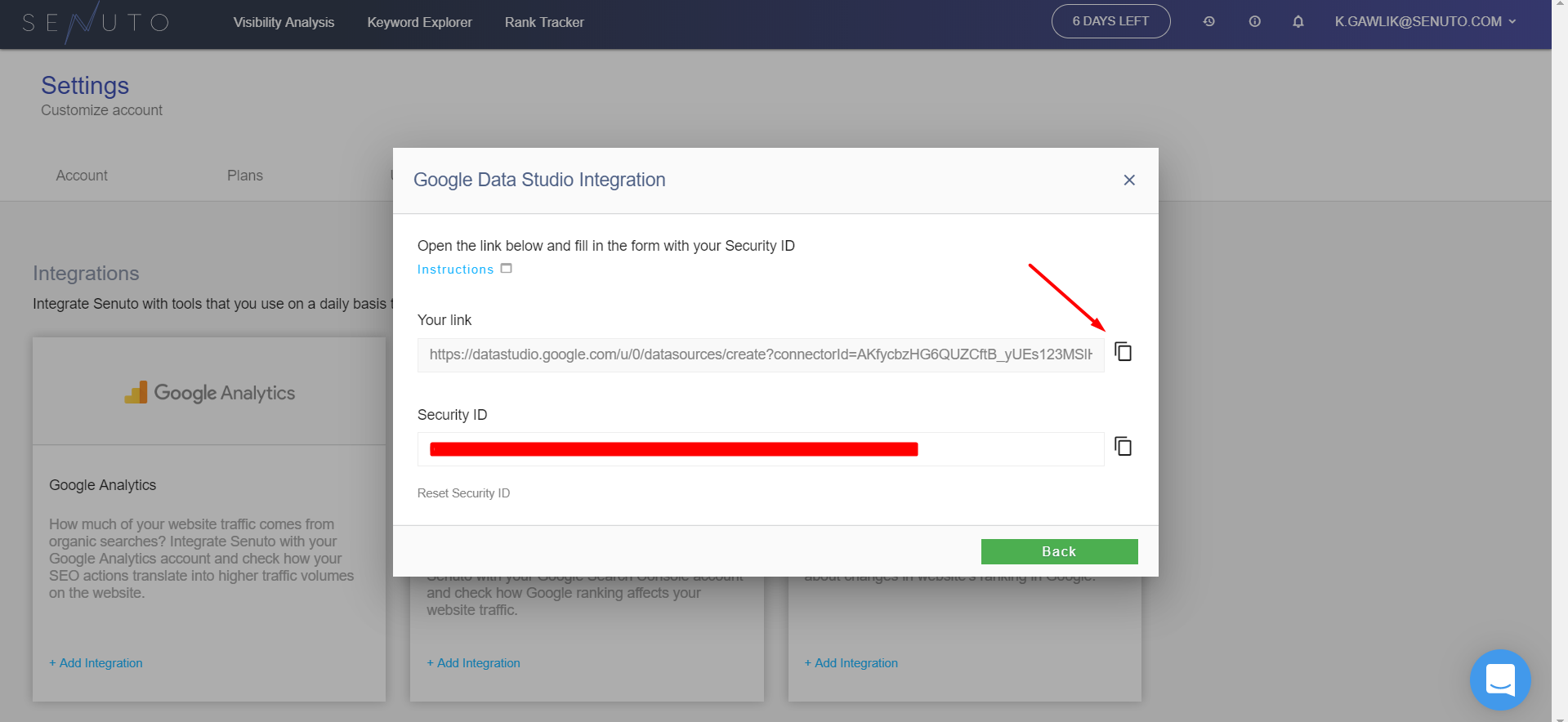 Step 2: Log in to your account with Google Analytics at https://datastudio.google.com
Make sure you are logged into the account of the appropriate user.
Step 3: Paste the previously copied link in your browser
Step 4: Enter the security code and domain. Choose whether the domain to be checked along with the subdomains (fetchMode) and the base from which to obtain the data (Data source type) that you want to obtain data. Remember to check boxes next to these fields. This will allow you to edit these items for each element in the report. Then click "Connect" in the upper right corner.
You can find the security code in the Account Settings in Senuto (Security ID)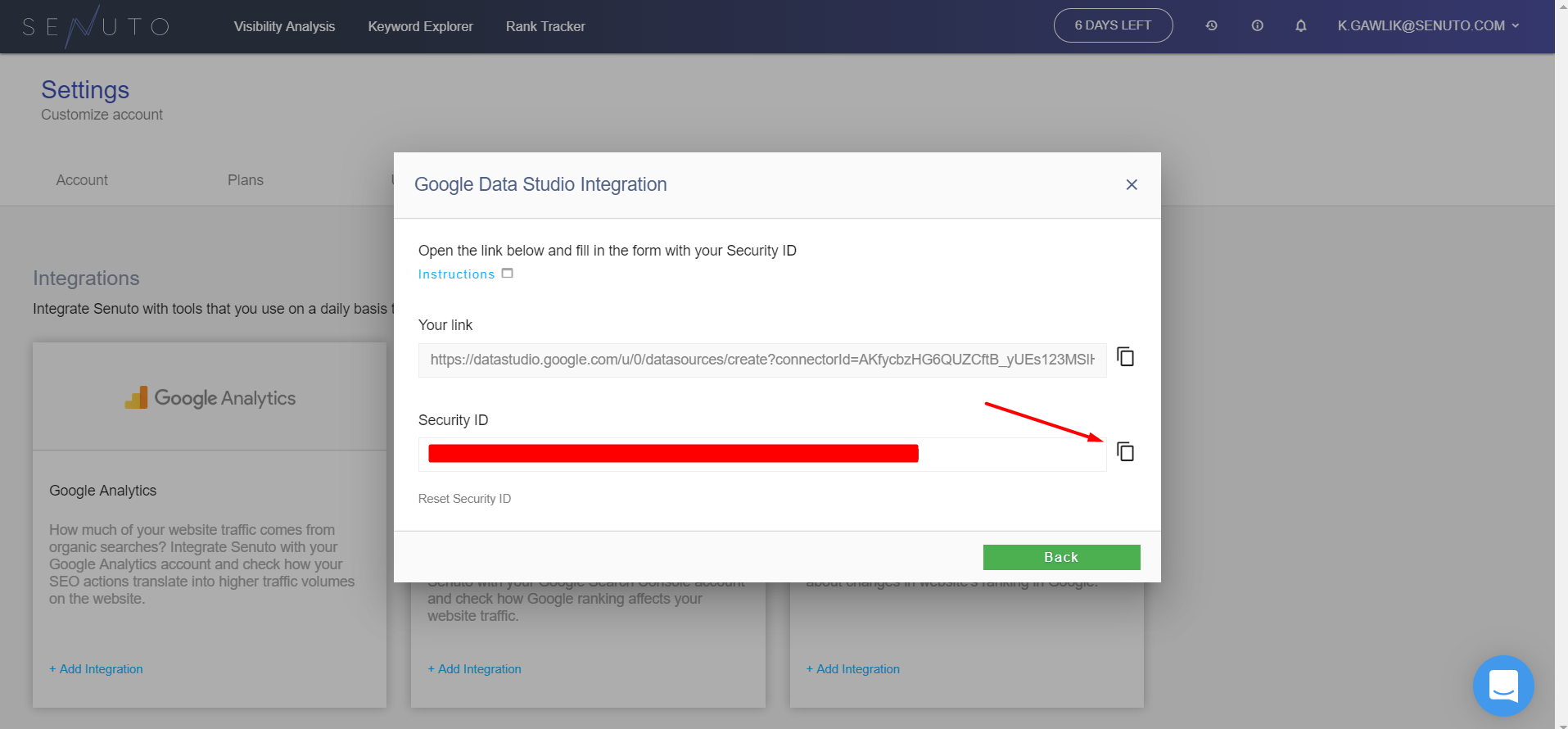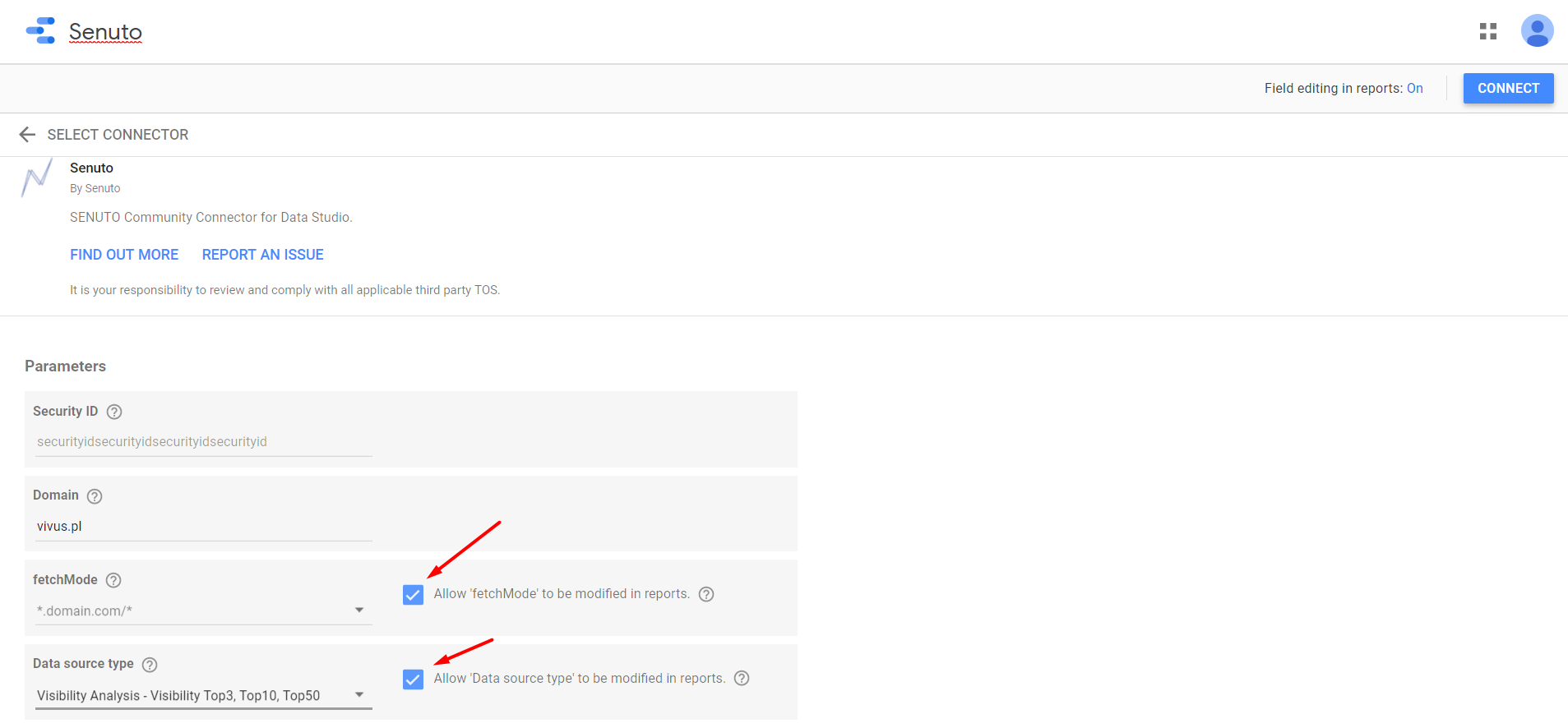 Step 5: Choose format of data and confirm by clicking "Create report".
It is very important to select the data type "Date" (RRRRMMDD) in the for the time and week attributes.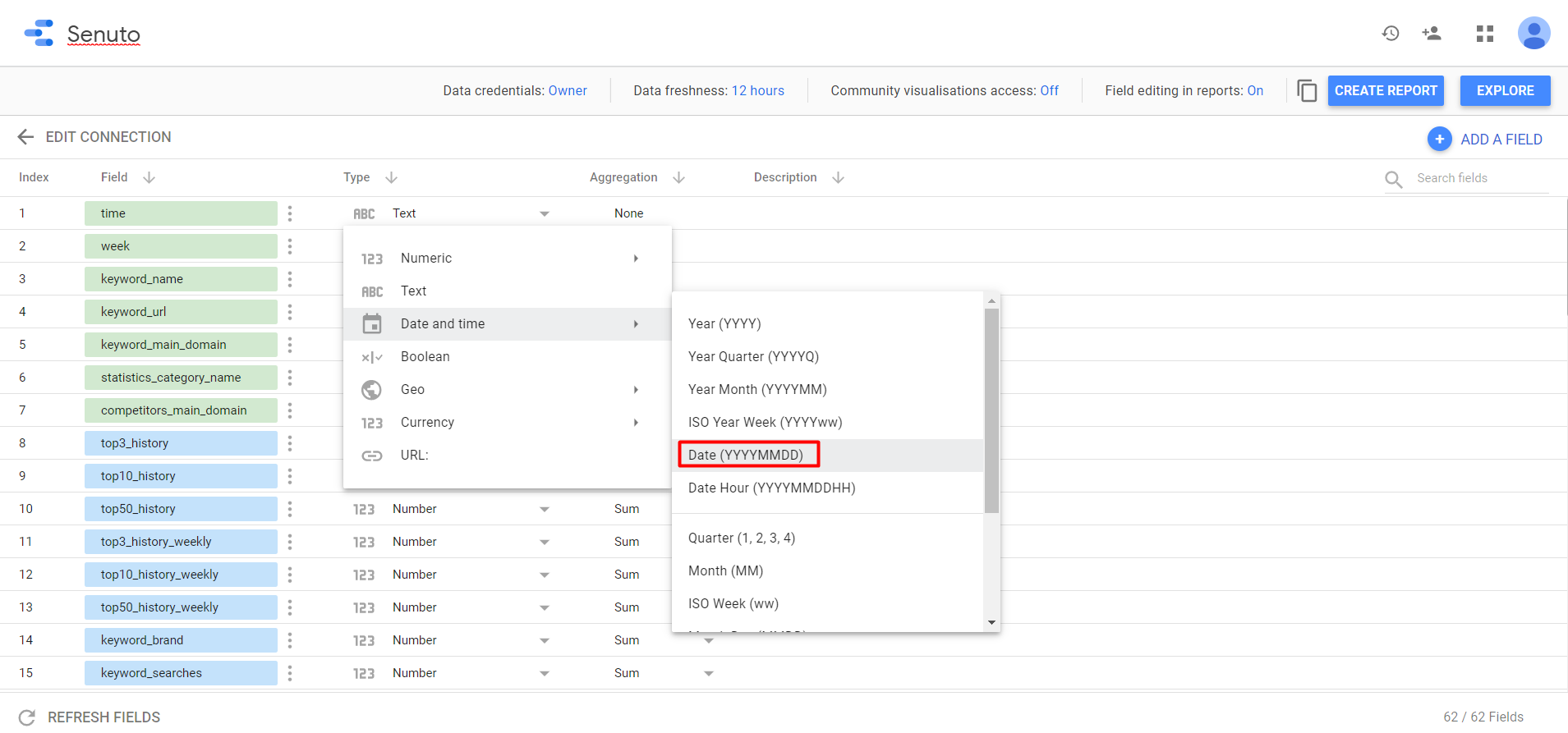 Correct settings should look like this:

Step 6: Add the data to the report
And it's ready! :) Now you can create your report! If you have not yet used Data Studio, go to the tutorial (LINK).
Creating an example report in Data Studio using data from Senuto.
Adding visibility chart
Step 1: Choose the type of chart you want to add to the report, e.g. a line chart.
Step 2: Determine which data you want to present on the chart: number of phrases in TOP3, TOP10 or TOP50.
Step 3: Add the option to change the scope in the final report.
Step 4: Set the chronological display of the data.
Step 5: View the report
You can make the report more attractive by adding the title and the current number of phrases in TOP3, TOP10, TOP50. By default, your report will be refreshed every 24 hours, but remember that the data in the Visibility Analysis in Senuto is refreshed every week. You can expect new data every Monday.
Support
If you encounter a problem when integrating Senuto data with Data Studio, please contact us via chat or at support@senuto.com
API
Below you can check how we pass data through API to Data Studio.
json
{
    "success": true,
    "data": [
      {
        "date": 20190218,
        "time": 1550444400,
        "top3_history": 2,
        "top10_history": 64,
        "top50_history": 876
      },
      {
        "date": 20190225,
        "time": 1551049200,
        "top3_history": 2,
        "top10_history": 50,
        "top50_history": 784
      },
      {
        "date": 20190304,
        "time": 1551654000,
        "top3_history": 4,
        "top10_history": 46,
        "top50_history": 801
      },
      {
        "date": 20190311,
        "time": 1552258800,
        "top3_history": 4,
        "top10_history": 55,
        "top50_history": 810
      }
    ]
}
---
---