Visibility Analysis – the main view. How to navigate?
The Visibility Analysis module is active only for users who have declared the country as Poland.To change the country, enter the Account Settings. In the Visibility Analysis reports are generated only for Polish domains.
Analyze the visibility of your website with the help of extensive Keyword Explorer. Our index consists of over 19 million keywords and 5 million websites.

Let's start by typing in a website which visibility in Google you want to analyze. Provide the URL and choose a matching method:
*.domain.pl/* – when you wish to examine the visibility of the entire website, including all of its subdomains
domain.pl/* – when you wish to examine the visibility of the website and its directories (excluding subdomains).
After a moment, you'll get a general report on the visibility of the website you've selected.
If you plan on analyzing the website more frequently, add it to Favorites.

 A general report will provide you with the following information:
Thematic categories
We've grouped websites in our database into over 400 categories. Your report will contain those into which your website's been classified. These are categories which are most closely thematically related to your website.

Technologies
You'll find out whether a given website has a Facebook, Google Analytics or Wordpress pixel or other technologies embedded in it. It's a particularly useful function when you want to take a peek at your competitors and compare methods of operation.

Visibility history
Here you'll check a number of keywords for which a selected website is ranked in TOP3, TOP10 and TOP50 of search results.
In addition, the bar informs about the visibility factor, Google Ads Equivalent and category ranking.

Visibility chart
A visibility chart shows the visibility of a website over a selected period of time.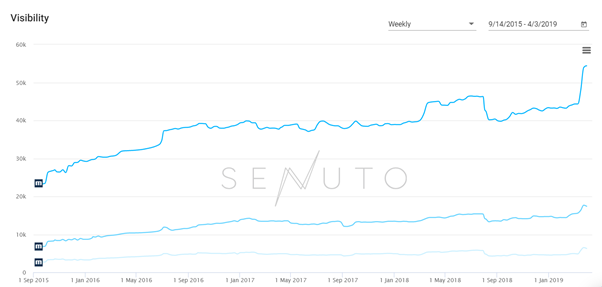 You may choose to analyze a weekly or daily report. It's a good idea to take a look at a weekly report at least once a week as it presents the situation of a website from a broader perspective. A daily report should be read every day.

 A daily report is generated basing on a smaller set of keywords (2.5 million). If you need detailed information on daily positions of your keywords, create a project in Rank Tracker.
A chart can also be enriched with information about visibility in Top3, Top10 and Top50. You may also add websites of your competitors for comparison.

Increases and decreases
In this section, you'll find the biggest increases and decreases in the rank of a selected website. Tables have more columns than originally displayed. To see all of them, just swipe a chosen column to the left. You'll find out more about keyword increases and decreases in an Increases/Decreases report available in Visibility Analysis.

Summary
The main view of Visibility Analysis displays general information about the visibility of a given website. To carry out a thorough analysis of your situation in Google, go to a Positions, Increases/Decreases or Competition report. We hope that everything's clear! Now let's analyze for which keywords your website is visible in Google.
---
---